CRLP hosts many events throughout the year, including our Fall Teacher Leadership Institute, Signature Program Open Institutes, Conference Workshops, and Spring Study Sessions.
June 18-19, 2019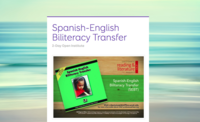 Join CRLP at UC Berkeley this summer for a two-day institute designed to effectively promote Spanish-to-English Biliteracy Transfer (SEBT) primarily for dual immersion teachers and schools.  SEBT offers an approach for teaching English reading foundational skills through coherent biliteracy transfer instruction (K-5). 
June 26-27
The UC Berkeley Graduate School of Education and the California Reading & Literature Project are pleased to announce our upcoming collaboration with Bright Morning Consulting, founded by transformational coaching and team building expert Elena Aguilar. This summer, Bright Morning will collaborate with CRLP to facilitate a two-day coaching institute: Professional Development that Changes Practice at UC Berkeley.